Your Dapper Balance is the funds, in USD, that you have available for use in your Dapper account at any given time. Dapper Balance can be used to purchase NBA Top Shot packs and individual Moment™ collectibles on the Top Shot marketplace.
As you make purchases, sales, deposits, or withdraw your funds, those changes will be reflected in the balance displayed in your Dapper account.
How to Purchase Dapper Balance
Dapper Balance can be purchased in just a few easy steps using your credit or debit card, directly to a bank account, as well as cryptocurrency.
For step-by-step directions on how to purchase Dapper Balance, read our article: Adding Funds to Your Dapper Balance.
How to Withdraw From Your Dapper Balance
You can withdraw funds from your Dapper Balance in three ways:
Via wire transfer to either a Canadian, US, or UK bank account.
By converting your Dapper Balance to USDC and sending those tokens to any Ethereum wallet address that accepts USDC.
In addition to our wire transfer option, you can also withdraw directly to a US bank account that you have linked to Dapper (this feature is currently only available for VIP Collectors).
To learn more about withdrawing from your Dapper Balance, including step-by-step instructions for each of the options listed above, check out our article: How to Withdraw.
Non-Withdrawable Dapper Balance
You may also, at times, have non-withdrawable Dapper Balance. These are funds deposited into your Dapper Balance from various promotional campaigns or other sources. These funds must be used for purchases and cannot initially be withdrawn.
Please note: When depositing funds directly from your bank account into your Dapper Balance, those funds will, most often, be considered non-withdrawable to start. Once your payment settles with your bank, however, you will be able to withdraw those funds. In those cases, your balance will update accordingly.

For more details on non-withdrawable Dapper Balance, read our help center article: Understanding Non-Withdrawable Dapper Balance.
How to View Your Dapper Balance
To view your Dapper Balance, simply go to your Dapper account. Your Dapper Balance will be the funds displayed in your account's 'Home' tab, as well as in the 'Payments and Payouts' tab.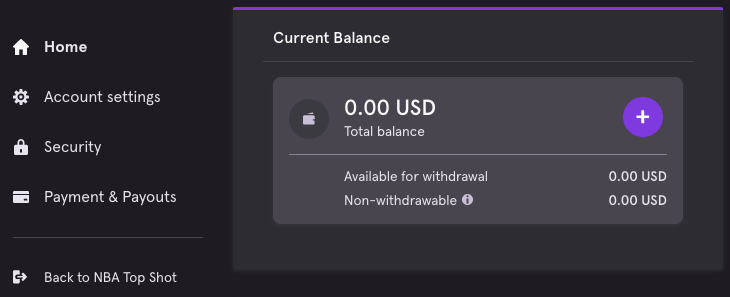 If you are trying to reach your Dapper account via the Dapper website, click 'Continue to Dapper' on the site's homepage.
If you are trying to reach your Dapper account from NBA Top Shot, hover over the person icon in the top right corner of your account, and select 'My Dapper Wallet.'