In addition to your Credit Card and Dapper balance, you will also be able to complete purchases using cryptocurrency from your preferred wallet. The currencies we currently support are:
Ether (ETH)

Bitcoin (BTC)

Bitcoin Cash (BCH)

DAI

USDC
While transactions are completed using Coinbase Commerce, most crypto wallets will work (some hardware wallets will not). Standard network fees will apply to each transaction and, similar to credit card transactions, you will receive a receipt to your email once the transaction has completed.
When confirming a purchase, select the Pay with Crypto tab at the top right of your purchase screen to start a cryptocurrency purchase: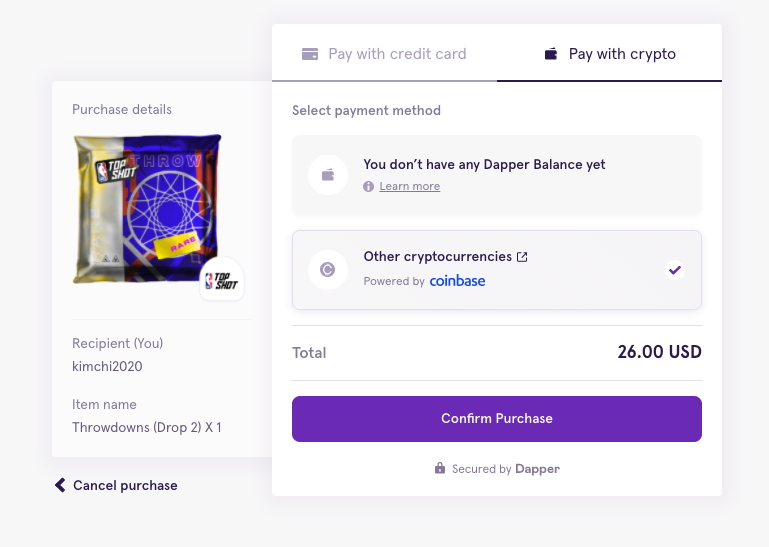 Note: All crypto charges will be shown in USD until you select the cryptocurrency of your choice. It is strongly recommended you pay in the full cryptocurrency amount by typing in the full ETH/BTC amount to avoid any errors (under or overpayments).

Marketplace purchases with cryptocurrency
To purchase individual moments on the marketplace using cryptocurrencies, you will need to first add to your Dapper Balance in your Dapper account's payment page.
Under Payments, enter the amount of Dapper balance you wish to add
You will be directed to the payments page where you can choose to pay with Coinbase under the Pay with crypto tab
Complete the payment via Coinbase Commerce