There are two ways to cash out your Dapper balance:
Convert your Dapper balance into USDC and send the tokens to any Ethereum wallet address

Via direct wire transfer to your bank account (currently only available in the US)
While we are in beta, there are three factors required of an account to become eligible for withdrawals:
An account must exist for several weeks (6 to 8 on average)
Show a history of transactions (numerous purchases, sales, and gifts, for example)
Pass the ID verification check (KYC)
Once these requirements are met, you will be notified in the 'Payments & Payouts' section of your Dapper account. If you believe you meet these requirements, please contact 'support@meetdapper.com' and the team will be able to help!
Converting your Dapper balance to USDC
To begin the process, head to the Dapper accounts app and select Payments & Payouts. Then:
Select Withdraw Balance
Choose your withdrawal option. In this case, its USDC.
Enter the total amount you wish to withdraw. There is a minimum withdrawal request of $30.
Enter your ETH wallet address. This is will be the destination of your USDC tokens, so please double-check the address before you confirm the withdrawal request.

If this is your first withdrawal request, save your recovery code and choose a verification method.

Then, enter your verification code. You may receive your code through either SMS, email, or you can verify the request using your recovery code.

Once the request is approved, the USDC will be sent to your Ethereum wallet.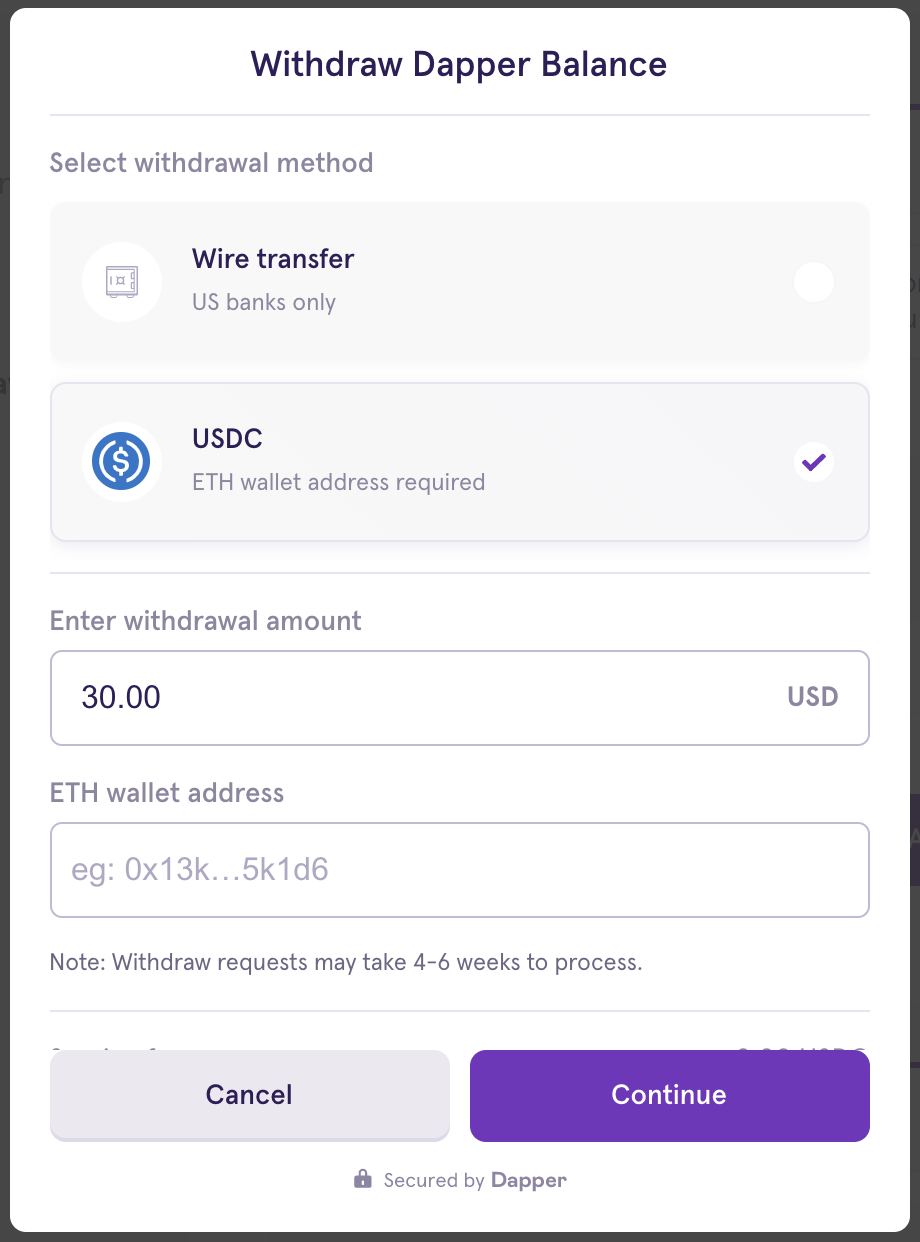 FAQ
We estimate a 6-8 week turnaround for withdrawal approvals for new accounts. As accounts in good standing make more requests, expect this process to be much shorter (days, not weeks). A KYC check must also be successfully completed in order to request a withdrawal.

The USDC can be sent to both a Coinbase USDC wallet or any Etheruem wallet